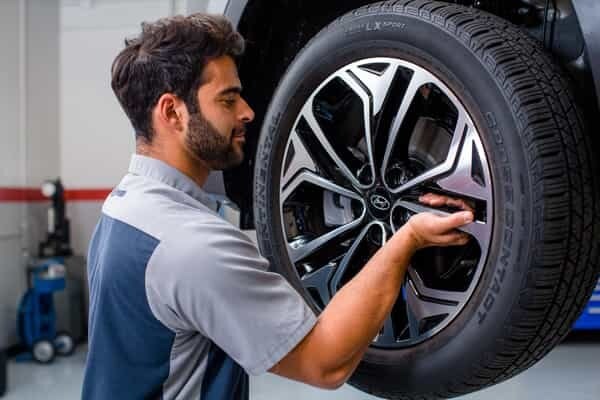 There a comes a time in every MotorWorld Hyundai customer's ownership experience where they must buy new tires. The longer you own a vehicle, the more likely it is you'll need to replace your tires.

Hyundai tires are diverse and multifaceted, sometimes making it a bit overwhelming to decide on the perfect, best-suited set. Thankfully, Wilkes-Barre Hyundai customers can count on the MotorWorld Hyundai service department to help them find tires that fit their needs and their budget.
2 Factors to Consider
Size
It's important the tires you purchase actually fit your vehicle. If you look on the inside of the driver's side door jamb, you'll see the tire measurement recommendations set by Hyundai. We can also help in our service center by taking a look and walking you through the options you have available.
Type
There are several types of tires offered:
All-season tires
Performance all-season tires
Summer tires
All-terrain tires
Winter/snow tires
Which tires do you need? Most vehicle owners decide on all-season tires because they're the most diverse and don't have to be swapped out from season to season.
Performance tires grip the road more tightly and are sportier to drive, but do sacrifice something in terms of winter-weather traction.

Investing in a set of summer (or rather, three-season) tires as well as a set of winter tires is more expensive, but gives you optimal performance for different seasons. It really comes down to what you want to spend and how you're driving your vehicle.
Shop for New Hyundai Tires at MotorWorld Hyundai
If you find yourself in need of new tires, contact us here at MotorWorld Hyundai so we can help you find exactly what you require for your driving needs and your budget. We want our drivers to stay safe, and that means operating with optimal tires. Thankfully, Hyundai models are compatible with several different tire manufactures at all sorts of price points!