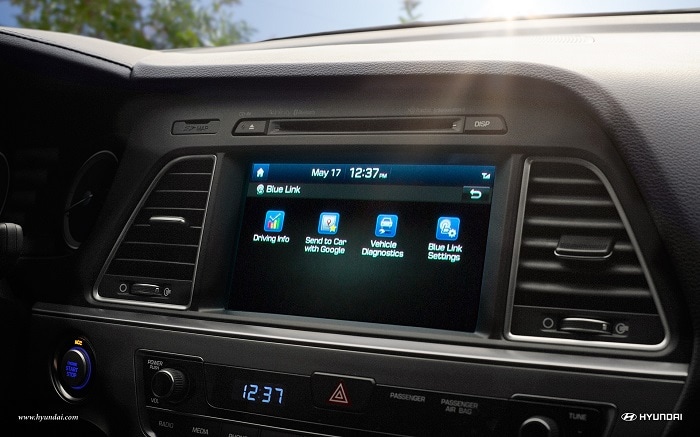 When you're looking for the latest tech and safety features, you might think that you have to opt for a high-end vehicle with all of the bells and whistles. Here at MotorWorld Hyundai, that's not the case. We can help you find a capable new Hyundai car that offers the technology you need.
Even a smaller model like the 2018 Hyundai Elantra offers tech like Bluetooth® streaming technology and compatibility with SiriusXM® satellite radio. Other models offer features like Apple CarPlay™ and Android Auto™, which both make it easy to sync up your smartphone with your Hyundai car's infotainment system. Some vehicles even offer wireless charging pads and USB charging ports. You'll never have to worry about running out of battery on a long road trip.
Recently, more Hyundai vehicles have started to offer Hyundai Blue Link® services. This unique connectivity technology can allow you to remote start your car with your smartphone. It can also contact emergency services in the event of a crash.
We know that you'll probably want to avoid a crash in the first place though. Fortunately, some advanced safety features in your Hyundai car can help you with that. Look for features like Lane Keep Assist and Blind-Spot Detection with Rear Cross-Traffic Alert. Some cars even offer Automatic Emergency Braking with Pedestrian Detection. Many of our vehicles also offer a Rearview Camera. If you've never been an expert at parallel parking, this technology could help. Our vehicles leverage the latest tech to keep you safer, whether you're on the highway or in a crowded city.
So visit our Hyundai dealership near Scranton, PA and find a new car that offers the features you need. Our knowledgeable Hyundai dealers can answer any of your questions about specific features or the latest Hyundai lease deals. We look forward to assisting you!